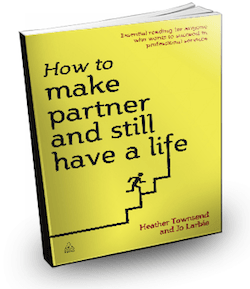 Use these 5 smart tactics to accelerate your career in your Big 4 and large firm. Guest blog by Heather Townsend, author of The Go-To Expert and How to make partner and still have a life.

It can be tempting when your workload is high to just get your head down and do your work. In fact, that was exactly what I did at BDO LLP when I returned from maternity leave on part-time hours. It was probably the most costly career mistake I ever made…
It is not just me who regretted neglecting my internal PR, but several of my clients have recently been having to re-focus on their internal PR to further their career ambitions within their firm. Not doing your own internal PR can be, as I found, incredibly costly to your career progression in a firm. In fact, get it wrong and you may find yourself out of a job.
What is internal PR?
With most partnerships adopting a matrix line management system, the lines of reporting to partners or assignment managers are 'dotted' at best. As a result of this, your ability to progress your career and get assigned to the best clients, or delegate effectively down to your team, is driven by your reputation and profile in your firm, i.e. how well you do your own internal PR. In How to make partner and still have a life we call the impact of your internal PR your internal market value.
When I talk about internal PR I am not talking about sucking up or smoozing your way around a firm. I'm talking about making sure your internal market value is as high as it can be.
How can you build good internal PR?
1. Play the team game
In my experience firms are always stressing, either because they have too much client work, or not enough client work. As a consequence, everyone always maintains that they are really busy. (And, this is normally the case) Therefore people who 'don't take one for the team', or are seen to not be 'mucking in', can start to get peoples' backs up. No one is asking you to become a doormat, but do make sure that you are seen to be playing the team game.
2. Look after your team
As you get more and more senior in a firm, you need to have people willing to work for you. I have heard cases where people have been turned down for partner because of their poor relationships with the level below them. Remember you need the juniors on your side, just as much as they need you on their side. Regularly schedule in some 1:2:1 time with the people you have working on your clients. These conversations are not just about client work, expand the conversation to see how you can help them with their agenda.
In Chapter 19 of How to make partner and still have a life, we examine how to motivate your team, as well as leading it to success.
3. Pick an influential mentor
Having someone in the partnership who is rooting for you at the partnership table and watching your back is essential for you and your career. This is possibly the most important thing you need to do if you want to get to partner in your firm
Download now our free guide for mentees to get the most out of your relationship with your mentor.
4. Get feedback little and often – and then ACT on it
Far too many people have throttled their career progression by not getting regular feedback from all their key stakeholders. Having poor self-awareness will hold your career back. Having been around the professions for 10 years now, everyone knows that each person has different strengths, weakness and particular eccentricities. In fact, people are fairly forgiving of most eccentricities, as long as it doesn't impact client service. What people don't forgive is when you receive feedback about your performance and you don't act on this feedback.
5. Don't hide your light under a bushel
When you do get positive feedback, especially from clients, do forward it to your assignment manager or appraising partner. One of the worst career crimes you can do in a partnership is keep your light under a bushel. Of course, if you are lucky enough to regularly get feedback from clients and the people you work for, you may want to save it up to send in one email, rather than sending multiple pieces of feedback every week…
Download now our free 6 page guide with 13 tips to help you accelerate your career at a Big4 or Large Firm
Author Credit
Heather Townsend helps professionals become the Go-To-Expert. She is the author of the  award winning and best-selling book on business networking, the 'FT Guide To Business Networking' and the co-author of 'The Go-To Expert', and 'How to make partner and still have a life'. Over the last decade she has worked with over 300 partners; coached, trained and mentored over 1000 professionals at every level of the UK's most ambitious professional practices.
Heather blogs regularly at How to make partner and still have a life and Joined Up Networking.
Heather works with owners of small professional practices, as well as  future and current Mid-tier and Big 4 partners.