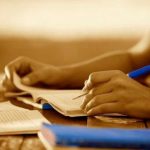 In the last year we've helped seven of our clients make partner. In the process I have reviewed many successful business cases. Many of the business cases I have helped write or craft have been for directors from Big 4 firms – both within the UK, but from all the major continents of the world. 
This article summarises what I learnt from this experience:
There is never enough time
Historically future partners would only find out they were going to be admitted to the partnership when they got a tap on the shoulder and asked to join the partnership. None of this convoluted and unwieldy partner track process.
The tap on the shoulder is still happening, but it normally signals something is required rather than you've made it. I've always known that firms (even Big 4 firms) have a habit of asking their future partners to submit their business case within a week. It has happened too many times now for me to see this as a coincidence. The well-organised firms are as guilty of doing this as the disorganised firms!
So why does this happen so much?
Last minute additions to the promotion process. Typically the Big 4 firms (and larger firms) will have "long long" lists, "long" lists and "short" lists of people going through the process. Often these names will have been on the list for quite some time. However, sometimes someone comes to prominence unexpectedly, for example when a client of mine joined a Big 4 firm as a senior manager, gets shoved onto the process late in the day.
Poor communication about what is needed by when. One of my clients had been told informally that he was going to be put onto the director promotions process at his Big 4 firm. The official communication from HR that that was indeed going to happen, appeared many weeks later. It was in that communication that my client discovered the timescales for the process. His promotions form needed to be submitted within a week.
Partners wanting a say in a Big 4 partner business case. This is probably the most common scenario, particularly for anyone submitting a business case in a Big 4 firm. (I'm sure it must happen in other firms as well!) I've seen it happen many times over where the partners in a business unit want to get together to discuss the future partner's Big 4 Partner Business Case many times over before it is finally submitted. It may not be the partners in your unit wanting to get together to discuss your case. It could be you need to have it ready for a meeting with your partner coach or your mentor.
In my 10 lessons that every potential partner needs to learn, I talk about starting on your Business Case as soon as possible. This is exactly why you need to do this – you never know when you are going to get a tap on the shoulder and be asked to submit your Business Case for partner.
Your Business Case needs to be succinct
Every time I've read a Business Case for partner – both for Big 4 firms and Mid-Tier firms – it always suffers from this problem. Too much waffle. So much waffle that in fact the key facts often get lost. As I say to people, make every word fight for its place in your business case. If the sentence doesn't help strengthen your case then take it out. Short and sweet is much better than War and Peace.
You often need to be too valuable to lose before your business case will be accepted
The main premise for most people's business case is that they have become too valuable for their firm to lose. Every time I ask this question most potential candidates for partner decide that they have become too valuable to lose. However, what constitutes too valuable to lose is often different when it comes to a candidate's viewpoint and the partners' viewpoint. i.e. there is a perception gap. Given that we are moving into uncertain times at the moment, this perception gap is getting bigger. In other words you now need to have a very strong case to be made up to partner. I am seeing scenarios where candidates are getting knocked back for partner for political reasons, such as they belong to an under-performing department. But then, the partners in their department, who desperately wanted to make the candidate up to partner, scrabble around and work out how to entice them to stay at the firm.
Politics do matter
Unfortunately, one of the people I helped make up to partner got knocked back. Not because she didn't have a very strong case. Actually she had a very, very strong case. It was because of firm politics. The team she belonged to was getting hammered as a result of Brexit and it wasn't the right time to admit anyone to partner from that team. Yes, it was an incredibly short-sighted decision by the partners, but that's often what happens.
A version of this post was originally published on the How to make partner website
To get your copy of How to make partner and still have a life at a 20% discount, use code HTMPG20 at the checkout on the Kogan Page website. Click on the image buy your copy
This article originally appeared in a different form on the How To Make Partner website.
Heather Townsend helps professionals become the The Go-To Expert. She is the author of the award winning and best-selling book on business networking, the 'FT Guide To Business Networking', Poised for partnership and the co-author of 'How to make partner and still have a life', and 'The Go-To Expert'. Over the last decade she has worked with over 300 partners; coached, trained and mentored over 2000 professionals at every level of the UK's most ambitious professional practices.
Heather blogs regularly at How to make partner and still have a life and works with future and current Big 4 partners and professionals from mid-tier firms all over the world